Special Educational Needs and Disabilities
SENDCo: Mr R Pope
Please click right to access the SEND Report information SEND Report 2019
For a list of helpful websites and links please click SEND Useful Links
For useful tips on helping your child to read,
please click Top 10 Reading Tips
For useful tips on helping your child to spell, please click Top 10 Spelling Tips
Accessibility Plan
Please click here to access our Accessibility Plan.
Please click here to access the Parent Plan Do Review.
External Courses, Talks and Information
Covid 19: Telephone helpline for families of children and young people with additional needs
Provided by Suffolk County Council
We know there may well be questions and anxieties for students and their families around what the return to school might bring. The helpline will run from now through to the end of September 2020 with the purpose being to respond to any queries and concerns from our families around the return to school. For example, it might be a child is anxious about the return to school and getting back to learning after the long period of absence. It might be about Special Educational Needs and the support in place for children on their return, or it might be a question around school attendance. Whatever it might be, we hope to offer our help.
The helpline number is 0345 606 6172. On calling the number the parent or carer will be asked to provide some details about their query and it will be directed to the right team/officer for support. A response will be offered within 2 working days.
External Courses
For more information, please go to https://www.suffolksendiass.co.uk/news-and-events

Irlens Information
If your child has been diagnosed by an optometrist with any of the following perceptual processing disorders: Meares-Irlens Syndrome (MIS), Scotopic Sensitivity Syndrome or Visual Stress, please let the school know by emailing sendco@claydonhigh.com with details and supporting evidence so we can provide support and ensure that our records are up-to-date.
Reading
Need inspiration on what books to read? You can use the 'Book Trust Bookfinder' to look for books to suit your tastes and interests, browse our archive of interviews with authors or just see what's out this month that should be catching your eye in the bookshop or the library. Go to www.booktrust.org.uk
Keep a list of all the books you have read in your Reading Record
Homework Support
The resources below can be used by your child to support their homework tasks. These activity sheets can either be printed for use at home or students can learn the techniques described on them and then use these methods in their school books/notepads.
Activity Grid
High Five
Keywords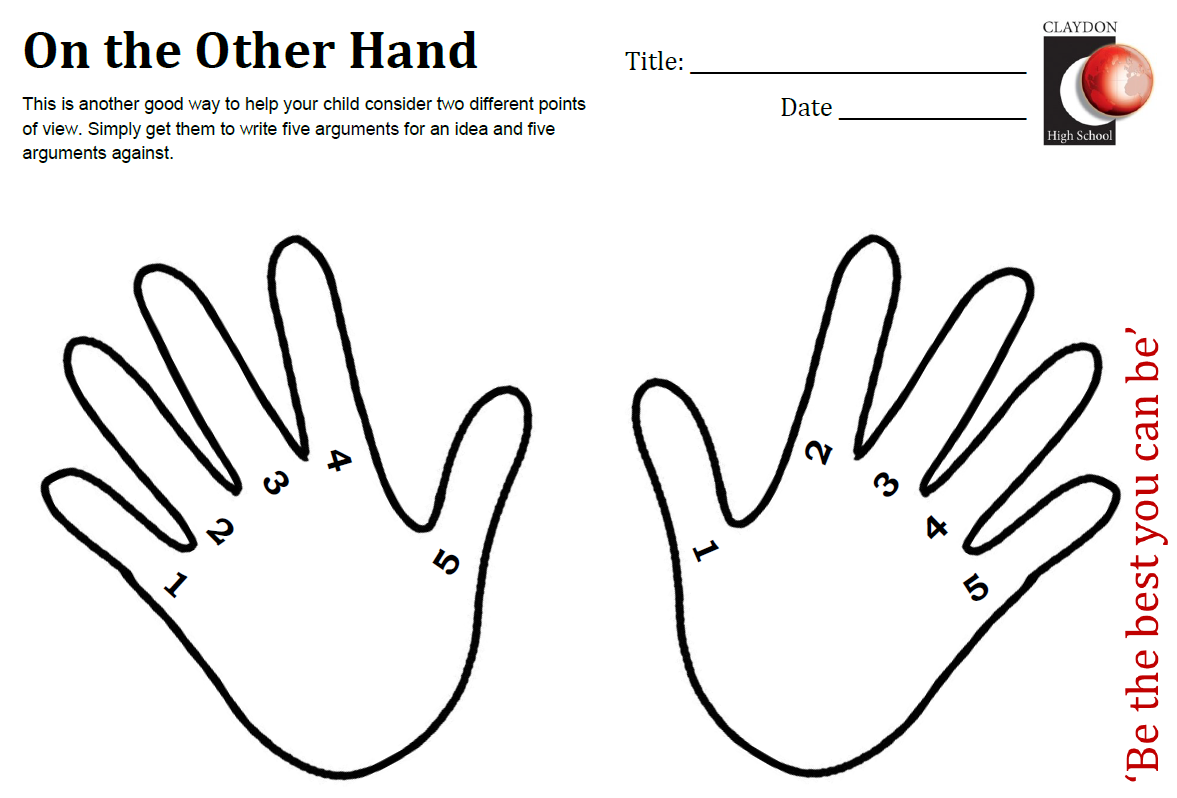 On the Other Hand
Flowchart
Homework Helper
Mind Map
Weigh it Up
Write About
Statement of Opinion
Storyboard
Helping Your Child to Spell
If you are worried about your child's spelling we have created a spelling programme (and associated word lists) for you to follow with them. These can be accessed by clicking on the links below:
My 'Read, Write and Spell' book
Generic Word Lists Subject Specific Word Lists
Level 2 List 1 English Level 1 Science Y7
Level 2 List 2 English Level 2 Science Y8
Level 4 List 1 Graphics Level 1
Level 4 List 2 Graphics Level 2
We also have an online spelling programme which can be accessed at home by visiting www.spellzone.com. If you would like the username and password for this resource, please contact the school office, giving your child's full name and tutor group and they will provide you with this information.