Uniform
Please read the information below which relates to uniform ordering during the Covid 19 pandemic.
School Uniform Covid 19 Update PMG Update Coes Information
Years 7 to 10


White Claydon High School polo shirt with logo
Polo shirts without the logo are not acceptable, and coloured and/or long-sleeved tops may not be worn underneath.

Skirts should be knee length and made of non-clingy fabric in a tailored design; not jersey or a 'bandage'/'body-con' style.

Trousers should be tailored with waistband, pockets and not tight around the ankles. Jeans/denim fabric, leggings, three-quarter length and "skinny" style or tight fitting trousers are not allowed.

Shorts should be tailored; not sports, beach or combat style.

Parent/carers are advised to buy black skirts, trousers and shorts from Coes or PMG and should be advised that high street providers' ranges may not be acceptable under our policy.


Claydon High School jumper with logo
A school jumper must be worn around school but may be removed in lessons.

Coats should be warm, practical and preferably water/showerproof.
Jumpers, cardigans, short fashion jackets and "hoodies" may not be worn as a coat.
"Hoodies" are banned items in school and will be confiscated.

Shoes should be plain black all over and be made of leather. Sensible and comfortable designs are required and for health and safety reasons backless shoes, open toes, 'pumps' which do not cover much of the foot, high heels, boots and platform shoes are not acceptable.
Trainers, skate shoes, canvas shoes, plimsolls (including all Nike, Adidas, Vans, Converse or similar branded shoes) and any with visible logos or branding are not allowed.

Discreet make-up is allowed but no coloured nail varnish, gel or acrylic nails are allowed. A watch and one discreet stud in each ear is the only permitted jewellery. No other piercings or jewellery is allowed. Hairstyles of an extreme design or colour are not allowed.
Year 11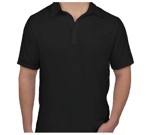 Plain black polo shirt, or white polo shirt with school logo
No other shirts are acceptable.
Plain black V-neck long-sleeved jumper, or school jumper with logo
No other jumpers, cardigans, fashion jackets or tops are acceptable.
The black polo shirts and jumpers do not have a logo so that students can continue to wear them after Year 11.


Equipment for Physical Education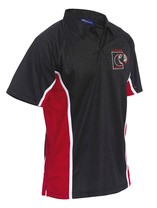 Outdoors: Red and black polo shirt and shorts or skort, red knee-length games socks/white sports socks and trainers.
Indoors: As above, with white ankle socks and training shoes.
Optional: Red and black Claydon High School ¼ zip sweatshirt and track pants. No other outdoor PE kit is permitted.
N.B. Any permitted jewellery must be removed for Physical Education lessons.
PURCHASE OF UNIFORM ITEMS
School polo shirts, jumpers and PE kit should be purchased from Coes of Norwich Road, Ipswich or PMG of Westgate Street, Ipswich. Both suppliers also sell Claydon uniform online.
Click here to access Coes website. Covid 19 Coes Update May 2020
Click here to access PMG website Covid 19 PMG Update June 2020
Click here to access the PENDLE website to purchase an optional GCSE PE shirt
NOTE: The Headteacher reserves the right to make individual judgements or amendments to the above as fashions and situations arise.